THE

REVOLT
Cruise -- 45-80 MPH
Stall -- 33 MPH
Takeoff distance --- 180 feet
Top Speed -- 90 MPH
VNE -- 100 MPH
Rate of climb -- 1200 FPM
Starting Price: $69,900
UNLIMITED
OPEN AIR FLYING
The REVOLT is a purpose-built open air STOL trike. It is a new concept to the trike industry with its central mast design. The design increases structural strength and eliminates the need for a front strut, giving the pilot an unobstructed view. The RevoLT is at home at the local airport or kept in a trailer folded up. Because this aircraft also folds in under 10 minutes and needs only a few hundred feet of unobstructed, level ground to takeoff and land, airports are VERY OPTIONAL.
Quick Walk Around 
The REVOLT
Comparison Between
 REVOLT and REV X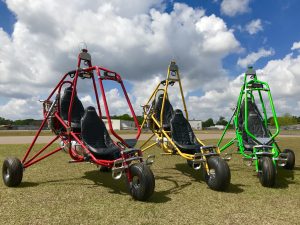 What ever Color  

You Like!
Visibility is second to none with an unobstructed view for the front AND rear seat. Thanks to no front strut and stadium style seating, the pilot in the front seat is well below the line of sight of the rear occupant. The gauges are also positioned between the pilot's legs to remove them from the pilots sight picture while looking forward.
The REVOLT provides a very cost-effective and a safe approach to two-seat flying in the recreational aviation market for those who like to fly low and slow, with a choice of very docile wings. It's a great way for anyone to get started flying a two-place trike without the high cost hurdles of more complex sport aircraft.
The RevoLT comes standard with no front strut, an 18.7 gallon fuel tank, 21" tires, FOX gas charged shocks, MGL Xtreme color EFIS, dual caliper hydraulic brakes, EarthX lithium aircraft battery, stainless steel exhaust and brake lines, and a 15-meter single surface wing.
Available options include the RIVAL X 14-meter double surface wing, electric in-flight speed and roll trim, instructor package, ballistic parachute, MGL V6 radio, low inertia E-Props (4 or 5 blade) LED lighting, saddle bags and much more!
Detailed 

Overview




Designed for Pilots Wanting No Compromises



Commercial quality construction
Super short takeoff and landing
Best seating available
Unobstructed view for pilot and passenger
Extremely quick and knowledgeable customer service
In stock parts in the USA ready for overnight shipping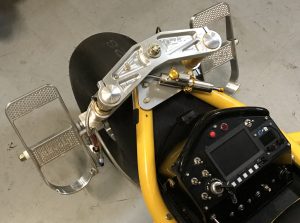 RUGGED 

FRONT END
CNC triple trees
4130 fork tubes
CNC foot pedals
Fully adjustable pedal slides
Steering damper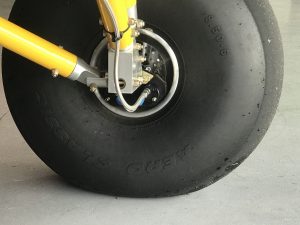 STOPPING

 POWER
Dual caliper Hydraulic Disc brakes
Stainless steel braided brake lines
CNC axle carriers
3/4" 4130 axles
Available 22" STOL Aircraft tires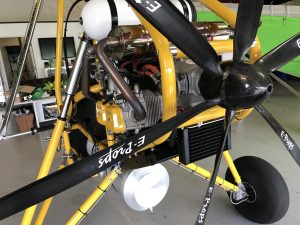 SERIOUS

THRUST
Available 100 HP Rotax 912ULS
Stainless steel Exhaust
CNC Dynafocal motor mount
Offset thrust line
Oversized radiators
Available 6 blade Excalibur prop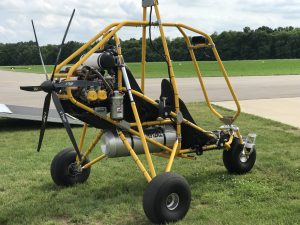 FULL 

ROLL CAGE
Quick release
Extra protection
RAM mount for navigation
Comes with wind screen
Comes with landing light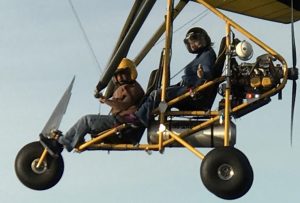 SHORT 

WIND SCREEN
Removes < 1 min.
CNC mounting brackets
Excellent front seat wind protection
Keeps open air experience
Highly recommended with RIVAL X wing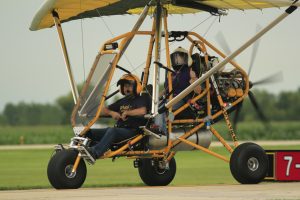 FULL 

WIND SCREEN
Included with roll cage option
100% wind protection for back seat
Removes from roll cage in 5 minutes
Improves fuel economy
Improves glide ratio
500 HOURS IN A REVOLT
CUSTOMER REVIEW
Meet the Larsons. They do some of the most
amazing exploring with their REVOLT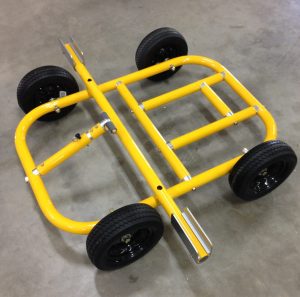 FOLDING 

SYSTEM
Finished to match 
Telescopic tire brace
Wing chalice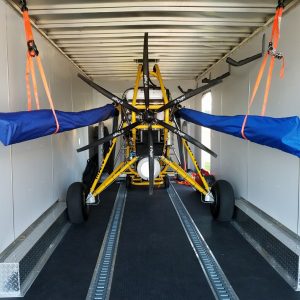 INSIDE  

TRAILER
Complete system
1 person set up
18' trailer required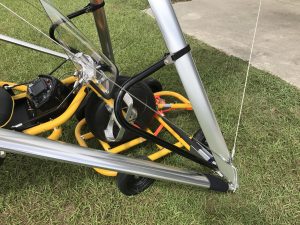 REVOLT 

DOLLY CART
allows entire unit to roll
supports control bar
works with both size tires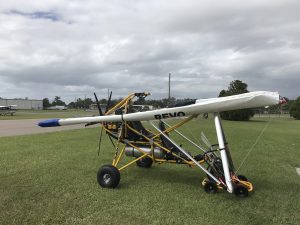 FOLDED 

FOR TRANSPORT
17.5 feet long
6.5 feet tall
81" wide
REVOLT Extreme High Wind Demo
The REVOLT in Action with Larry Mednick at the controls.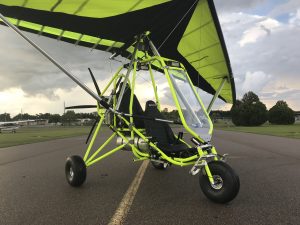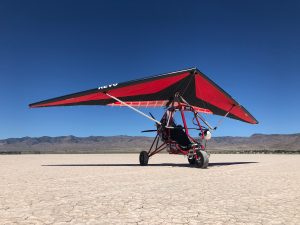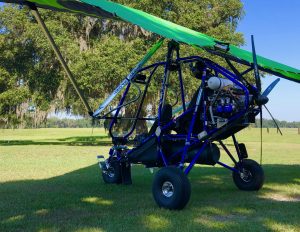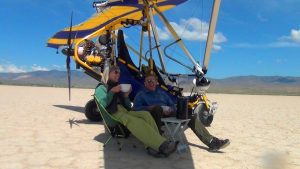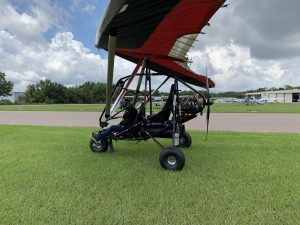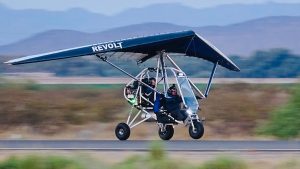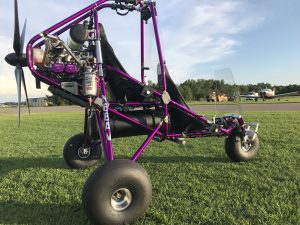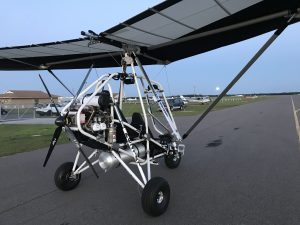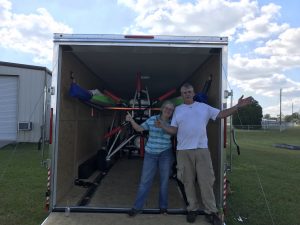 A New Evolution Revolt Trike for The Old Guy
Why trikes, Why a New Evolution Revolt trike?

After a long layoff from any flying I found myself in my mid 60's in good health with time and resources to fly again and a wonderful wife who was supportive.

But why Trikes? After spending a lot of time in the past few years at places like Oshkosh, Sun & Fun and other aviation events I found the passion again to fly and I realized that the Cessna 172 flying I had done 10 years ago was not what I wanted this time. While I have never flown Trikes, they were similar to Hang Gliders which I had flown in the 90's albeit that was a few decades ago. Among all other Light Sport Aircraft, I looked at trikes are what finally won out my heart to take a closer look at. Low, slow, open cockpit, efficient, reliable and perhaps portable is what I wanted.

This decision was not without serious evaluation on my part and to make sure I had as much in-depth information as possible I enrolled and completed the Light Sport Repairman Maintenance course (Repairman Light Sport Aircraft) at Rainbow Aviation in Corning, CA. During this 15 day course I found what I needed to be sure I was asking the right questions and understand some of the daunting terms used in Light Sport (LS) aviation. Not to mention how to maintain Light Sport aircraft including mine and how to be darn sure you read and follow the manuals. Many Many thanks to Brian and Carol Carpenter.

Ok Trikes it is, but why the Evolution Revolt? I liked the Revolt's rugged looks and off pavement appeal (I am kind of a Jeep guy), I liked the back seat separation, better visibility for passengers and no compression strut in front of pilot, fit and finish and durability of the Trike. I liked the options available on it, I especially like the "what if" engineering approach to the overall design. I am a big guy, I looked at other trikes but when I read the pilot weight rating in the manual on most of them I was a tad on the heavy side, but not in the Revolt and I can carry a heavy dude or gal in the backseat as well. I figured the 4 stroke Rotax 912 ULS on it was a no brainer (doesn't mean it wont fail, even right out of the box) but there is nothing I have uncovered that could be more reliable. So Revolt with 912 it is.

But why a brand new designed Trike, the Revolt? Ok this one is easy, I watched Evolution and Larry Mednick closely over the past year and asked a lot of questions of different people, no one denied that Larry was one of the best at trike design and trike aeronautical understanding. I made several trips to Zephyrhills, FL., had demo flights in the Revolt and Revo and hung out in Larry's way to learn how I thought his product would work for me and realized the Revolt was the right fit and concept I was looking for. On some trips I brought my wife Deb who is also a Hang Glider pilot and Larry and Amy treated us as Family and my wife loved the Demo flights. Bottom line I came to trust Larry, trust with my life.

Training with Evolution Trikes Larry Mednick is exactly what I needed. I had read the training manuals and watched the training videos, I recalled my Cessna 172 instructors and reflected on my Hang Gliding training. But this is a different type of aircraft, I trained with both Rick Fantuz and with Larry in the Revolt and the combination was incredible. Rick is smooth, thorough and reassuring and Larry really really drills in the basics to be a safe Trike Pilot. Considering your flying a High Drag, Low Mass aircraft this training is a must have for safe approaches especially in adverse conditions and I can't imagine there are any better trike Instructors to teach this. So glad it was drilled in my head by Larry on final approach "Get it, Get it" and I hope it stays.

Final training and AC acceptance took about a week and a half. I completed my trike training, soloed, took my proficient check flight while and they completed a multitude of punch list items, some design changes, adjustment to the Revolt and one nagging Mag problem that Lockwood Aviation finally helped out and fixed. Needless to say there was stress at this time on everyone involved but no one let it get out of hand and we all worked through it. Larry always had a plan and it was kind of a team effort and in the end it gave me more confidence in the Evolution Trikes, Rotax, my training and especially my Revolt.

Many thanks to Phil, Amy and Larry Mednick. I love flying the Revolt so far and I know I have a lot learning ahead of me, but if they can get this old guy in the air with my deficiencies while keeping the wife happy they can do it for you. If your thinking about flying this might be your ticket. It is never too late…

Ken Sutz