SUPER LOW INERTIA  
ULTRA HIGH THRUST
EXCALIBUR 4 & 6 Blade Propellers
Carbon Fiber E-Props are simply the Smoothest Propellers money can buy! Not only are they multi-bladed, but the number of degrees varies between blades creating an even smoother pulsation experienced with pusher props. Even the hubs are Carbon Fiber making them the Lightest Weight Prop Available!  Among other benefits, this makes start up and shut down on the 9 Series Rotax engines smooth and easy on the gear box.
Performance is second to none due to its Advanced Design. Using High aspect ratio blades with very unique airfoils provide greater efficiency while providing both low end punch and top end pull most props cannot match.
With FREE SHIPPING and a MONEY BACK GUARANTEE, we are confident you will be Amazed by the Smoothness and Performance of these 100% Carbon Fiber Propellers.
Featured here are 2 of the most popular examples from E-Props (other models from 30-150 HP available).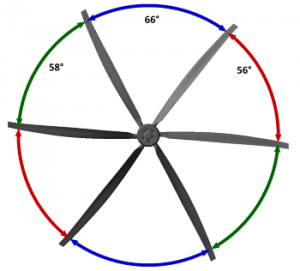 Larry Mednick Talks with Dan Johnson about these Amazing Ultra-Smooth props. Learn why REVO and others are switching to the 100% Carbon Fiber EXCALIBUR from E-Props.
Dozens or other models available as well call for details
DURABILITY
Worried about Durability? Want a metal leading edge? Take a look at impact damage done in a controlled test of a metal Leading edge in comparison with E-Props special High-Impact resistant resin. The results speak for themselves. The solid Carbon Fiber leading edge not only has less damage, but can be easily repaired by the end user using a little 30 minute epoxy and sandpaper. Because E-Props are polished Carbon, and not painted, they hold up to rain better than many other painted props on the market as well. 
IMPACT TEST
Colored tape shows an equal impact between both blades
Top blade from "brand X"
Bottom blade E-Props blade
From unboxing the new prop to installing it. See how its done with all the tools and tips needed for an easy set up. 
The EXCALIBUR 4-Blade for ROTAX 912 UL 80 HP, 912 ULS 100 HP and 912iS 100 HP
Aircraft Propeller Specification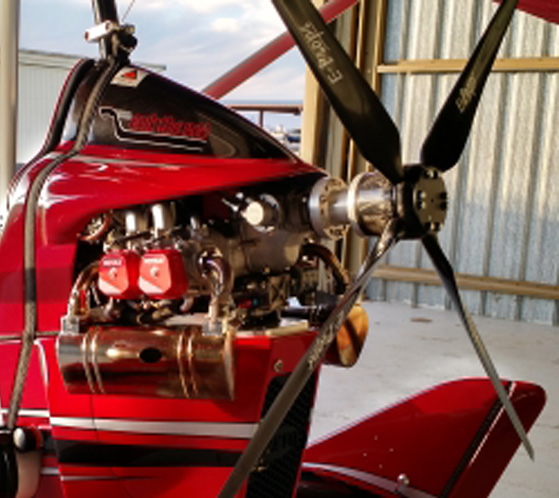 EXCALIBUR 4 BLADE 
Model

EXCALIBUR 4 Blade

Number of Blades

4

For Engines

ROTAX  582 with 4:1 ratio
912 UL, 912 ULS and 912 iS

Special Geometry

Silent 4-blades

Diameter

 70'

Weight

8.38 lbs

 
 

Price

 

$2,250 includes FREE DELIVERY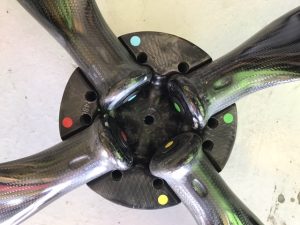 PERFECTLY BALANCED 
Color coded blades allow the propeller to be assembled exactly as it was when it was Factory Dynamic Balanced. These props require no balancing! 
EASY SET UP
The EXCALIBUR uses Nordlock washers which means assembly and re-pitching is done easily without needing safety wire or nylock nuts. Just torque the bolts after pitching the blades with the included digital protractor and the assembly is complete. 
DIHEDRAL DESIGN
The truly unique dihedral hub design angles the blades forward and uses centrifugal force to counter the effects of blade flex under load.  The end result is a smoother lighter propeller with virtually no tip flex at full throttle.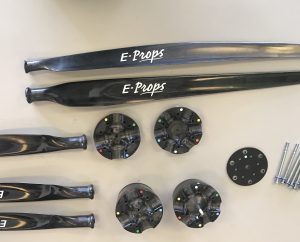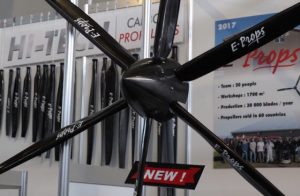 The 6-Blade provides ultimate smoothness and optimum thrust on the  ROTAX 914
Aircraft Propeller Specification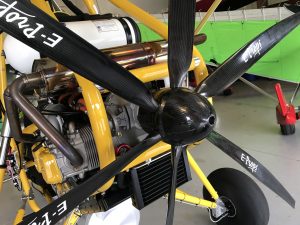 Optional Spinner cone shown here.  Can be added to the 4 or 6 blade for $175
EXCALIBUR 6
Model

Excalibur 6

Rotation Sense

Counterclockwise  [1] only

Configuration

Pusher Only

Number of Blades

6

For Engines

ROTAX 912ULS 912iS, 914 and 915

Special Geometry

Ultra-quiet Ultra smooth

Diameter

 66" 67" 68"

Weight

6.8 lbs
 
 
 

Price

 

$2,550 FREE DELIVERY