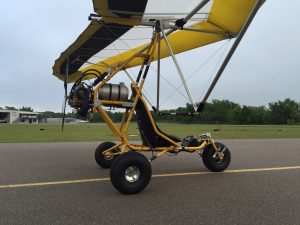 The REV offers a completely unobstructed view with no front strut. The available 17" Tundra tires and all wheel suspension allow off-field operation where no runway or license is required*. Hangar is optional with this quick setup (6-10 minutes) aircraft. Road trips can now include easily trailering this ultralight trike.
*No license is required in the United States.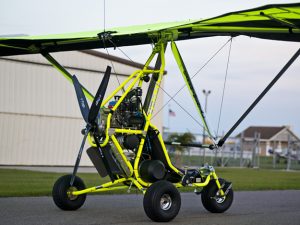 Fly faster, Fly longer, Fly further while dominating the midday bumps with the REV X. Like the ultralight REV – full suspension, no front strut and quick fold in under 10 minutes make this a great off field trike that can be transported easily by one person. BUT, when the wind blows the fun doesn't stop with a 12m wing on the REV X. Brute force in a small package.
REVOLT
LIGHT SPORT AIRCRAFT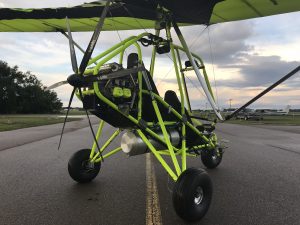 The REVOLT offers "Unlimited Open Air Flying" at its Best! Based on the popular Ultralight REV, the REVOLT incorporates  2 seats, even larger 21" Aircraft tires and more suspension while maintaining the no front strut Design. The 18.7 gallon fuel tank is large enough to fly all day long and has the  largest seating area available with an unmatched 300lb seat limit.
REVO
LIGHT SPORT AIRCRAFT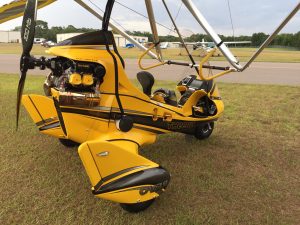 The REVO aims to create the ultimate flying experience with its precision, responsive light handling feel in the comfort of a wind free, roomy cock pit. The construction combined with a multitude of exclusive features set this trike apart. Capable of 100 MPH with the available 912 iS engine, this trike will take you and a passenger places in comfort and style.
Award Winning line up.  
Our trike range is designed to be the Safest, highest quality Powered Hang Gliders available on the market today with innovative features you will not find elsewhere .
Trike Models range from $25,000 to $130,000
Learn to fly in 10 days!
Who is flying Trikes?
At first glance this may seem like an extreme sport, but the more you learn about this amazing way to fly, the more you will realize it is about peacefully soaring like a bird.  A trike is motorcycle like in the way it carves through the turns while experiencing something with amazing open air visibility.
So who flies trikes?  To name a few, we have: Doctors, lawyers, engineers, police officers, school teachers and retirees flying these.  But we also have Great grandmothers, Ministers, little people, paraplegics and teenagers enjoying our wonderful sport and just about everyone in between.
If your friends or family think you are crazy for wanting to fly like a bird, rest assured, you are of sound mind with a natural human desire to experience flight in what we feel is the BEST TOY ON EARTH. 
For more Information and Product Updates
On the cutting edge of innovation our facility continues to produce quality aircraft that both increases safety and improves performance. Located in the small town of Zephyrhills, FL, we continue to push the threshold of personal aviation.
Interested in our products, Want to learn more? Let us know! We'll send you the latest news, updates and products from Evolution Aircraft.