ULTRALIGHT

AIRCRAFT
Cruise 45 MPH
Stall 26 MPH
Takeoff distance 130 feet
Top Speed 58 MPH
VNE 62 MPH
Rate of climb 500 FPM
Starting Price: $25,900
THE

REV
On the Lighter Side of Things...
The REV is a rugged STOL single seat trike with 3 unique features
There is no front strut

It has all wheel suspension

It folds onto a specific trike dolly cart for set up and storage in under 10 minutes.
"The DIRTBIKE of the SKY"
If the REVO is considered the flying Sport Bike of the Sky. Then undoubtedly, the REV is the flying Dirtbike of the sky. And like a dirtbike no license is required*. Big tires, all wheel suspension and STOL** performance allow the REV to explore new possibilities. Perfect for keeping in the garage and flying off of a few acres. Ideal for trailering the REV to remote sites without any real runway for Epic adventures.
*No license required in the United States **Short Take Off and Landing
AMY EXPLAINS... 
Amy explains many of the standard features, options, and components of the REV
UNIQUE DESIGN
The suspension comes from 4 "flex rods". The entire front end is a swing arm giving the nose wheel equal travel. The entire front end disconnects and "unplugs" to fold the trike in lieu of a folding mast. In its folded form the rear wheels lift off the ground creating a counterbalance effect making the wing effortless to bring up and down.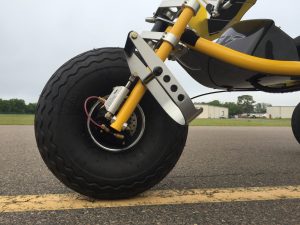 Serious Stopping Power
Real STOL Aircraft brakes with dual calipers and 4 brake pads!
CNC T6 Calliper
Matco Master Cylinder
Vented Rotor
3/4" Chrome moly Axle