N Numbered 

AIRCRAFT
Cruise 45 MPH
Stall 28 MPH
Takeoff distance 100 feet
Top Speed 58 MPH
VNE 62 MPH
Rate of climb 1200 FPM
Starting Price: $39,900
THE

REV X
Like the Ultralight version, the REV X is a rugged STOL single seat trike with 3 unique features:
There is no front strut

It has all wheel suspension

It folds onto a specific trike dolly cart for set up and storage in under 10 minutes.
What's Different on the REV X?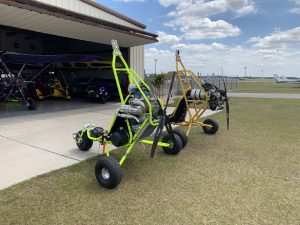 You asked for it ….. We listened!
Fly faster, Fly longer, Fly further while dominating the midday bumps with the RevX
Like the ultralight Rev – full suspension, no front strut and quick fold in under 10 minutes make this a great off field trike that can be transported easily by one person. BUT, when the wind blows the fun doesn't stop with the RevX. Brute force in a small package.
The REV X uses a 25% smaller wing, a longer and wider wheel base and nearly double the horsepower of the ultralight version the Rev.
The 12m Rascal wing, commonly found on the RevoLT, has been reengineered to a 750lb gross (150lb greater than the ultralight Rev wing). Like the 2 place Rascal, this wing has a full set of turbulators (VG's) for incredible short field take offs and landings. The small 28ft spanned wing no longer floats like a leaf but cuts through turbulence like a large 2 place trike. Light control forces combined with quick roll rate make this package extremely fun to fly.
The legendary Rotax 582 powers this performance trike. This motor is coupled with the E-gearbox with electric start turning a 4 blade E-Props as standard.
This capability means cross-country flights are a reality thanks in part to the larger 10 gallon fuel tank. A hydraulic parking brake allows you to secure the aircraft when you reach your destination.
The fuel system is upgraded to long lasting aeroquip lines with auxiliary electric fuel pump and CNC gascolator as standard. Float style fuel level sender monitors the fuel level closely.
An even stronger landing gear with larger 5/8in axles on a longer, wider wheelbase increase durability and stability in rough terrain.
All this power, weight and speed classify the REV X as an N numbered aircraft (in the USA) which requires a license to fly.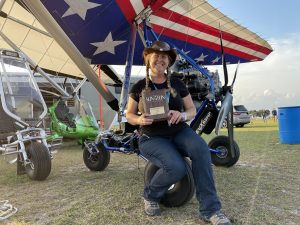 REV XS Package
Real Cross-Country Performance!
If you crave speed the REV XS is the answer. Trimming comfortably at 55-65 MPH with an 80+ MPH straight and level top speed, the XS will take you places. This is achieved with a double surface high performance 11m wing, high speed 6 ply tires and windscreen with built in wind defectors for a broader area of protection.
11m Competition wing
120 MPH speed rated tires
frameless wind screen
PILOT REPORT:
John Glynn after his Flight in the REV X

Fellow Trikers, you must fly the RevX. I have flown many brands, sizes, and types of trikes but I have never flown anything more well behaved and easy to fly before. Takeoff in a few seconds, climb over 1200 fpm, cruise at a comfortable 40 – 45 mph. Roll pressure light and with the small single surface 12 meter wing it handles turbulence with ease. Can fly a fun single seater not just in the am or evening but all day long. Crosswinds definitely not a problem. Stall easy to detect and not surprises. Large flare window for easy landings. Great suspension, but my landings on it were sooo easy I never tested the suspension travel! Anyone that wants to build time on a super fast set up and take down (realistic 6 minutes) trike and not limit flying to mornings and evenings must give this RevX a try. My face is still hurting from smiling after flying this wonderful machine. Solid, stable, comfortable, easy, nimble, and exhilarating are words that come to mind. Thank you for your innovation on this new machine that is built with the same quality and materials as your 2019 Grand Champion Light Sport Revolt. Thank you for trusting me with your new machine and everyone, when you get the chance try it you will love it! Truly nothing out there in this class or category.
John Glynn
UNIQUE DESIGN
The suspension comes from 4 "flex rods". The entire front end is a swing arm giving the nose wheel equal travel. The entire front end disconnects and "unplugs" to fold the trike in lieu of a folding mast. In its folded form the rear wheels lift off the ground creating a counterbalance effect making the wing effortless to bring up and down.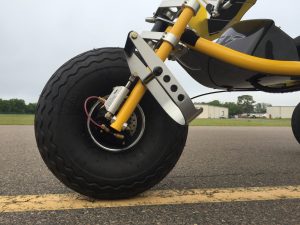 Serious Stopping Power
Real STOL Aircraft brakes with dual calipers and 4 brake pads!
CNC T6 Calliper
Matco Master Cylinder
Vented Rotor
3/4" Chrome moly Axle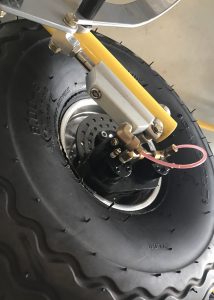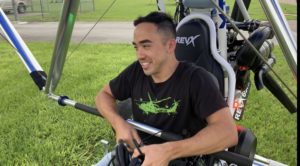 New Owner of  

REV X
I owned a 912 trike. I loved to take passengers up and to take the occasional cross country trip. However, I found I wasn't doing either of these that often and most of my flights were just short, scenic flights at sunset. While I loved my 4-stroke trike, something felt missing. Most of the fun I had was on takeoff, landing, and the rare times I would fly low. I longed to be able to fly low and slow, quickly transport my trike, and comfortably takeoff and land from any clearing. Enter the RevX.
I was fortunate enough to be able to demo it last year and I was instantly hooked. The completely unobstructed view gave me a new sense of freedom and the true sense of flying like a bird (we often talk about this with regard to triking, but until you remove that front strut you don't know what you're missing!). Add to that the short takeoff and landing, ability to land anywhere, a small wing that can handle turbulence, a sub-10-minute fold time, and a ton of power and you have the ultimate flying machine. Triking is fun, but the RevX redefines fun and brings it to a whole new level. I just got my new RevX and couldn't be happier with it. Thanks Larry Mednick for designing this awesome machine and for helping me get my hands on one!
-Dre (Andrea Sarchi)