ABOUT
 EVOLUTION TRIKES INC.
Well you are here because you must be really curious. Grab a cup of coffee or tea because this is many years condensed into a page.
The name Evolution Trikes comes from the long evolution of aircraft that preceded the Revo. Each trike before it was evolving into what is now called the Revo, which is short for Revolutionary.
HISTORY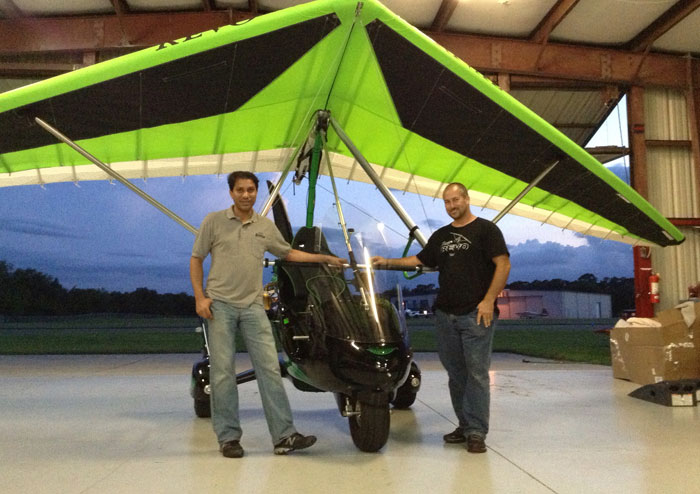 It all started with two guys, Larry Mednick and Abid Farrouqi. Both started out flying very basic trikes with 50 HP motors cruising around the sky in the 40 MPH range.
They started flying trikes right around the same time over a 15 years ago after discovering they both loved flying weight shift control far more than the conventional aircraft they had both learned to fly. Abid, immediately had plans to start a flight school for trikes, and wanted to help introduce the sport to the American market.
Since triking in Europe was so popular, Abid knew all he had to do was to get people hooked. Larry on the other hand flew his trike nearly every day while his once favorite hobbies of freestyle jet skiing and street bike riding faded into his past.
There was only one thing Abid and Larry wanted to do, and that was fly trikes!
SCHOOL OF HARD KNOCKS
Once Abid had established a flight school, he realized he would need a little more horse power and a bigger back seat to be able to continue to train students in volume. He quickly discovered he could build a trike in kit form at a very reasonable cost.
Once his nice new machine was finished, Larry was chomping at the bit to fly this new bird; however, Abid wouldn't consider it, since the trike had a severe design flaw. The front nose wheel steering could get into such an oscillation during takeoff and landing, the manufacturer had installed a steering lock that would be flipped down to lock the nose wheel straight for takeoff and landing.
Besides the obvious "band-aid" to cover a serious problem, there was still some play in the steering. To make a long story short, it wasn't long before Abid was up-side-down in a ditch next to the runway after landing... Abid began to research front fork geometry on the Internet and with help from his former engineering professors he studied all the information he could get his hands on.
He quickly became somewhat of an expert on front end geometry and had figured out what the trike needed to track straight and have good stability. He spoke to the company making the trike and told them how to correctly fix their steering geometry issue. The company was amazed when they built the new forks and no longer needed any kind of steering lock or dampening. The new trike was now safe to operate.
Larry wanted a larger trike as well, he too found a company that offered a kit to build. He talked to the manufacturer about using a larger engine with a smaller wing to be able to fly a bit faster than the previous models that had been built. The manufacturer was probably more excited about the high horsepower, higher wing loading version of the trike than Larry himself. Larry had the kit built in no time.
After learning things like hang testing that the manufacturer walked him through, it seemed the trike was ready to rule the sky. The first test would be a low level test no more than a few feet off the ground. He felt confident as a 400 hour pilot that he could handle a test flight as a real test pilot, since this combination had never flown before. As the trike got up to take off speed the rear wheels began to lift!
The only problem was the nose wheel remained firmly on the ground. Larry immediately aborted the take off and sat down and thought about the problem. Then it hit him, if he got going really fast and made it jump off the ground quickly, all 3 wheels would leave the ground at the same time. Believe it or not, it worked! Larry was flying it all over the place, enjoying his new toy, but knew deep down in his gut that the take off problem was more than a little problem.
After multiple take offs and landings, the trike wound up ground looping and Larry was reminded of Abid's earlier incident while he sat up-side-down hanging by his seat belt. Larry jumped to the occasion to solve this design flaw. knowing the trike hanged correctly, landed correctly, but took off at full power incorrectly, it was obvious after doing extensive research that the thrust line was to blame.
It was the reduced drag of the smaller wing and the increased thrust of the high powered engine that made a small design flaw in the original design, a large problem when changing out a couple of key components. Larry worked with the manufacturer to fix the thrust line geometry and the trike was fixed!
Both Abid and Larry had machines they were thrilled with and became dealers for the two different, extremely grateful companies, and started selling trikes and teaching people to fly them. There was no better satisfaction for either of them, than watching their students go solo for the first time in their brand new, very own, trike. As the first air show came up, Abid and Larry shared a booth and wound up having such a great time, Larry decided to come on board with Abid's Flight school, Tampabay Aerosport and they would have both trikes to offer their customers.
FINDING A DESIGN
It wasn't long before Abid and Larry were becoming very experienced and very familiar with their competition and realized that they had a desire not only to compete in trike sales, but had the desire to compete in having truly the finest machine in the world. Abid proposed building a trike from scratch. Larry being the more hands on guy was not so optimistic about building a trike from scratch. Having built several kits, it was clear just how much was involved, and needless to say they didn't want to build just any trike, they wanted to create the ultimate trike.
Back to researching trikes, it was Abid that came across an old photograph of, by far the most beautiful and exciting trike he had ever laid eyes on, it was an Apollo Delta Jet. Larry agreed, it was the most amazing trike he had ever seen as well. After contacting the company that made it in Hungary, they were stunned to find out it was discontinued because they had replaced it with something newer.
They looked at its replacement, and went right back to the question, "why did you replace it?" After a long answer that made little sense to Abid or Larry, the company said it was possible to still make the trike if there was a market for it. Once again it was time to use an even larger engine that had never been tested in the Delta Jet and incorporate a new cantilever suspension that would later become the Delta Jet's trade mark design.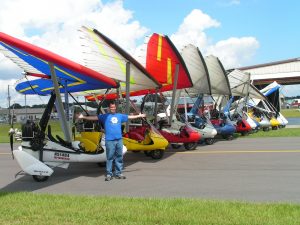 After receiving the Delta Jet they just couldn't believe how amazing it looked and how amazing it would probably fly with a 12 meter speed wing that came straight from Italy. It seemed they had found their machine they could truly call the ultimate. After the first test flight, Larry returned with a blank stare in his eyes, it was déjà vu all over again, but this time it was massive amounts of prop torque effect and p-factor, and poor tracking at higher speeds that plagued the trike.
It was several months, multiple motor mount designs, and new wheel pants, before the Delta Jet was flying true and straight. Abid and Larry were happier than they had ever been. As they flew and tested the Delta Jet they continued to improve or replace everything from gas tanks, to throttle cables to the wiring harness in their effort to create the ultimate trike.
By the time they were satisfied they had made 62 changes to the original machine and the manufacturer was impressed with both the sophistication and sheer strength of the revised design. Abid was running a second shop that actually only took the bare boned Delta Jet chassis form the company in Hungary and completed the construction in the USA , making it a US built trike with many US components.
About that time Sport pilot was coming about and Abid got right in the middle of that as well. Abid was part of the committee and with all the know how of the regulations, and testing required, Abid certified the Delta Jet as the 3rd trike in the world to be SLSA certified light sport.
While Abid had his hand in that, Larry decided to write and publish his very own trike book called "Flying Trikes" of which he sold over 1000 copies worldwide in less than three years before the book went out of print. Being the perfectionist that Larry is, he wouldn't reprint the book without rewriting it. The only problem was he became so involved in what was yet to come. The Delta Jet became a popular item in the states and soon caught on in Norway and then in other parts of Northern Europe.
In fact they were using Abid and Larry's exact same wing/engine combination with many of the new modifications and loved the handling, speed, and styling. In the states there was still one "big" problem. Some Americans could barley fit into the front seat, and hardly any large Americans were comfortable in the back seat. It seemed clear that there would be no 63rd change to the Delta Jet. The Delta Jet was finished, and awesome in its own right.
A NEW BREED
A new breed of trike like never before would be born. It would have the styling of the Delta Jet, the comfort of the biggest trike, and large tires with monster suspension to go anywhere. Larry traveled to Hungary and not only created the Fusion (first generation of the Monsoon/Revo) he worked side by side with the designers and builders of the Delta Jet learning more about trike design when designing the new trike.
There was a long list of features the Fusion needed to have that was compiled from trikers all over the world. It was a wish list and also a complaint list regarding whatever they disliked about what they were currently flying. After a year and a half of development, the first Fusion was ready. Larry was half hearted about the Fusion as many of the details were forgotten and some of the design had changed for one reason or another.
Regardless, all of the systems that had refined the Delta Jet into the machine it was, were incorporated into the Fusion and the Fusion flew amazing from the very first test flight. Larry tested the Fusion for hundreds of hours and loved almost everything about it. Larry and Abid had a bit of a following by now in the US and around the globe and other dealers purchased the Fusion direct from Hungary.
In fact the Fusion competed in the World Championship in 2006. Larry was not completely satisfied and demanded that they make the Fusion over again, and this time he would oversee every little detail. The result was the Monsoon trike. At this time Larry and Abid had completed an amazing trike that seemed to rival the competition in every respect. Larry and Abid were "on the map". They had virtually learned how to perfect every component involved in manufacturing a trike including matching the wing.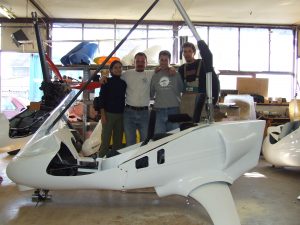 It was at this time that Aeros released their long awaited topless version of their flagship wing, the Profi TL. This was a top choice for the Monsoon since it had things like electric in flight trim, an amazing glide ratio and a wide speed range. However the very first wing was not quite 100%. Once again, Larry took to the challenge and began to pin point what needed to be compensated for the new topless design.
The end result was a flatter airfoil towards the wing tips which increased the pitch stability and gave additional yaw stability to the wing with lighter roll pressure. Aeros immediately tried the new batten profile and discontinued use of the original profile. Aeros and others agreed, the wing was now much better and ready to top off the Monsoon. The Monsoon was quickly certified SLSA in the USA and wound up being the most popular model sold in 2008 in the United States .
ONE MORE TIME
By late 2007 there was actually a long waiting list to get a Monsoon. Abid and Larry were beside themselves, with a product everyone seemed to like and no way to get enough of them.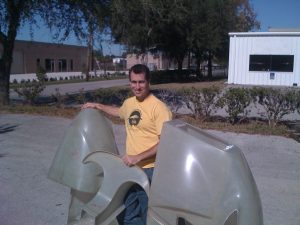 At the air show, where Abid and Larry were actually promoting and selling the competition's trikes, since they had nothing to sell of their own that could be delivered anything short of a year, they made the decision to build a true 100% all American built trike. They never wanted to be in that situation again. They also had built and flown enough Monsoon trikes to know every little area of how it could be slightly improved. After literally torturing the trikes for thousands of collective hours and building dozens of them, they wanted to revamp their creation one last time. Using newer age technology such as CNC computer cut parts and a Chromoly welded frame instead of a bolted together aluminum frame.
The body could be lighter and stronger and the entire aircraft could be finished using the best of the best in coatings, anodizing and AN aircraft hardware. The next step was to survey all of their existing customers to find out any flaws or small complaints and then ask the builders what would make their job easier and faster to assemble.
The end result was a simpler stronger new design with a fraction of the parts and reduced weight, with stronger materials giving it added strength and stiffness while taking more cycles than Aluminum. The body was completely redesigned with no area being quite the same, however trying to keep the heritage of its ancestors apparent.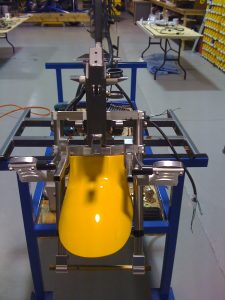 The one thing that remained a problem was needing an all American wing for their all American Revo trike design. It was also at this Air show that Larry and Abid had conceded that the Quik wing from the UK was arguably the best flying wing in the world. Having flown just about every popular wing that existed, Abid and Larry Knew what they wanted in a wing now, and it was all spelled out for them very clearly. Unfortunately, the Quik wing manufacturer was neither USA based, nor would their US dealers stand for them selling wings to the competiton.
So Larry and Abid set out to see what the only two US based wing manufacturers could build in a 2 place cross country wing. Luckily both US manufacturers had just completed their latest cross country wings. Right away they had one of each ordered for testing to top off their soon to be Revo that would be finished just 18 months later.
The first wing was great, so long as it was on a light weight little trike although the speed range lagged. The Revo would not even come close to fitting into that category. Then the next wing was tested. It showed promise, but after extensive testing in turbulence and high speed passes, it failed to pass the strictest of standards set forth for the REVO.
It was clear, the only wing that was made that satisfied the Revo's requirements was sadly not available to use on the Revo.
They collectively took to the challenge, to build the wing that could fly at 100 MPH and bust through turbulence unlike anything they had ever built before. The requirements, specs and fundamental differences that Larry and Abid were specifying for the design of this new wing took time for Northwing, a US based trike wing manufacturer, to rethink everything. The wing was after-all a purpose built wing for the REVO.
It had to be optimized for the project and machine at hand and the specifications were demanding. The first prototype wing was ready for testing soon after. After five iterations of prototyping, they had perfected the sail cut, frame geometry, airfoil and tuning. Each of the previous prototypes was slightly different. Finally all agreed, the new wing was exactly what they had set out to achieve. It was now time to start tweaking while doing tons of flight testing.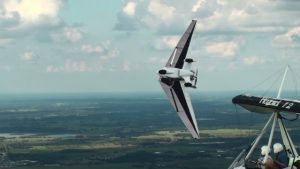 First came computerized pitch testing with state of the art software and a special test automobile (vehicle) and static load testing with the weight equivalent of a modest automobile on each wing. This wing was stronger than most wings the team had tested before and that was no surprise since one of the key ingredients was doubling the amount of tubing in the leading edges of the wing for handling purposes.
The wing passed all of the tests with ease and became qualified to be called ASTM compliant just about the same time the first REVO rolled out of the factory. Tweaking and tuning of the finished prototype continued further into the 4th quarter of 2009 (almost 9 months since first prototype was considered structurally done) until all specifications and flight characteristics demanded for the REVO were met and wing was now ready for serial production.
This 9 month long flight testing period had taken an excellent prototype wing to a polished gem. During this flight testing period many experienced trike pilots were given the chance to fly the wing and their input noted and incorporated into the finalized format of tuning the wing. The wing was made more stable as a result of regular pilots getting a chance of flying it and giving their input instead of just test pilots used to the wing's handling.
These pilots' input in working out the final tuning of the wing cannot be ignored and Evolution Trikes team was eternally thankful to all these trike pilots, many right from Florida, for the input they had provided.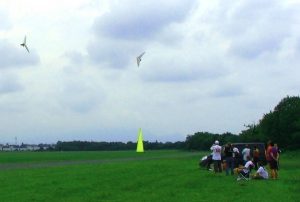 During this process of designing and building the Revo and Reflex wings, Larry represented the USA in the World Air Games in Torino Italy pylon racing trikes and Abid and Larry were both consulted as subject matter experts in the field of weight shift control to help proof read and fill in a couple of blanks in the FAA Weight Shift Control hand book.  Abid was thrilled to have an older photo of him flying his Delta Jet on the cover of this 200 page, monumental book.
Tampabay Aerosport (Larry and Abid) were recognized in the index as well for being an information source for the FAA's book. Larry also managed to get noticed with a photo of him next to Abid in the book as well.
DESTINY
By 2012 after building dozens of REVOs that went to many of the top flight schools, well known trike pilots and remote edges of the Earth, Larry retired from his day job of 19 years and began to run Evolution Aircraft inc. full time. Abid always wanting to do more, quickly became interested in basically re-living the story one last time, but this time building an all American gyroplane.
Larry on the other hand wanted to develop a new breed of trikes that would fly slow and capable of landing "anywhere". It was time the Dynamic Duo continue on their own paths and part as friends to continue advancing light aviation in new directions. Abid and Larry continue to consult each other on a regular basis even though they are now actually competitors in the Light Sport market.
REVO owners agree, the name is nothing short of accurate. The evolution of the REVO is now complete and this is the part where  Larry allows the REVO to roll out of the factory floor and ship all over the world to trike pilots demanding simply the best.
Now that the team has finished their masterpiece, They are creating new models to fill different needs in the world of weight shift control and continually innovating.
Larry spends most of his time doing R+D Evolving the REVO and developing new trike designs (REV and REVOLT) while running a flight school where he can share his joy of flying trikes with others.